The Valley of Spirits
Orgrimmar
Durotar
Date: unknown
The Shatterskull Marauders
The Officers Barracks
Ratchet
The Barrens
For the attention of Chieftain T. Ironsong, Warcaller C. Bladesinger, Warcaller G. Stonepaw and Warcaller S. Mistrunner
To whom it may concern.
It has come to my attention that your warband, the famous Shatterskull Marauders, is in need of people with skill sets of a more nurturing nature.
I hope that this letter will convince you to take me under your broad and profitable wing.
You might rightly wonder why I seem to be ignoring your well-written application form. I understand that in order for your warband to remain as successful as it is, it needs rules, regulations and protocols. As much as I respect that, I also have a deep love for creativity, hence why I hope to stand out from all the other candidates applying for this job by giving mine a more personal touch. Not to be confused with a lack of respect, I assure you. A goblin such as myself does not long survive without heeding the word of those bigger, more powerful, or downright meaner than herself. I work well in a hierarchy, and believe that hard work will gain one more profit in life than irritating my superiors with disobedience.
In the form you named three characteristics that one within your ranks should not have. One of them is cowardice, a term I had to look it up in an orcish dictionary. Do not get me wrong, I know fear. Fear makes a great business partner after all, but I do not cower in the face of opportunity. One who is not willing to risk life and limb will never be successful. I have stated above how I am an obedient goblin, that knows her place, so I will not elaborate on that one again. Lastly, you name strength. Granted, I lack this when it comes to the physical kind, but I like to think that my strength of will and spirit make up for that.
As a Sister of the Holy Light of Profit I am skilled in the arts of healing. My talents extend to those given to me by the Light and with the more mundane natural and technological ways of fixing non-technological beings. I can use my talents to fight, but prefer a more supportive role due to my tiny stature and the risk of being stepped on in the midst of a melee. In my free time I like to explore the treasures of the Old World, and I have become quite the professional amateur in all things history. It might surprise you to learn that I do this almost entirely for the pleasure of it, though everything worth doing is naturally worth doing for a profit, and it is not my fault that people seem to be willing to pay good gold for relics from the days of yore. I am also a proud member of the Sisterhood of the Holy Light of Profit, an organisation currently
1
strong with the noble mission to spread the Word of Profit all over Azeroth.
As to your moral question. Personally I think most people do not realise their true nature until it is tested. Who is to say who is really a coward deep down, and who is a hero? For the sake of argument, I will try to speculate on my own course of action in such a dire situation. As a goblin and Sister of the Holy Light of Profit, my answer would seem simple. I would go for the option that would net me the most Profit, Glorious Profit. Now before you start screaming at me, hear me out. Profit is not just about gold. Without friends or allies, this world would be a hostile, depressing and downright boring place. Are my friends and allies the most profitable then? Maybe not, without the security of the Horde, the world would also be hostile and depressing, though granted far less boring. So in this situation it is impossible to determine which course would gain me more in the long run. What else is there to judge what is right and wrong by? Orcish honour? Tauren wisdom? Mojo? That might work for some, but I do not pretend to have the same level of understanding of these concepts as one born into them might. No, in this horrible situation, it comes down to good old Goblin Mathematics. (Do not worry, I wasn't going to say technology, I know most people have the weird notion of not wanting to be blown up.) The fall or survival of Orgrimmar would hardly depend on the presence of one little goblin, even one as qualified as myself. My friends however have no other hope but me. I would try to free my friends, and then join the battle for Orgrimmar with the strength of my allies behind me.
In short this letter proves how I am worthy of joining your ranks with the following formula:
Sister Pimmi + Heals = less Marauders die die = more win = more Profit. I hope to hear from you shortly. I am available for a face to face chat this very evening. I can come to Ratchet if needed.
Yours Sincerely,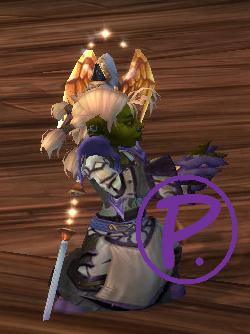 Associate Professor Pimmi Twinkle, sister of the Twinkle Twinkle Little Light Sisterhood; "If the price is Right, we bring you the Light."
(Not to be confused with the Booty Bay Babes; "If the price is right, we'll be your wife for a night")